Tutorial:Quick Start
Comment

1
750Befehle on
this wiki
Do you find the tutorials to be useful? ~Günsche

Welcome to the quick and dirty start guide! This tutorial (hopefully) will assume that you:
Have a PC (sorry Mac users)
Have Windows Movie Maker (not the best choice, but it's the most accessible.)
Have downloaded the Original Bunker Scene.
You may want to watch this video, made by an unterganger for an unterganger: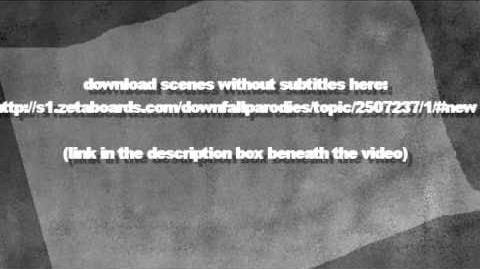 Once you have Movie Maker running, choose
File->Import
from Movie Maker to load it for editing. It appears in Movie Maker as a series of consecutive clips. At the bottom of Movie Maker's window is what's called a timeline. Drag each clip, from first to last, into the timeline, keeping them in the same order.
To add a subtitle, click the magnifying glass button to zoom in on a clip. The audio soundtrack is represented as sound waves, so you can see exactly where each speaker's lines begin.
Align your subtitle's appearance onscreen to the start of each spoken sentence, so viewers aren't left hanging. To do this, drag the vertical location bar in the clip's window until it matches the left-hand starting point of an actor's sound bite. It's your call how long to leave the subtitle onscreen. Give people time to read it.
Next, select the menu item Tools->Titles and Credits->Add Title. Go to the selected clip and choose Change Title->Animation->Select Subtitles. Click "Edit the title text" and type in your dialogue. Then use the font controls — the A button onscreen — to shrink the text size. Make the letters white, for contrast against the movie.
Once you have added one subtitle, the easy way to add the rest is to cut and paste your first one over and over. Then you won't have to redo the font settings each time, you just change the words.
When you are finished, choose File->Save Movie File and save the edited movie in WMV format. Play it on your desktop with Windows Media Player, to be sure it works.
Ready for your worldwide premiere? Go to YouTube and create a free personal account if you don't have one. You can then upload your Hitler remix to YouTube for everyone on the Internet to watch. For more help and ideas, join the Downfall Parodies Forum at s1.zetaboards.com/downfallparodies.
Adapted from NYTimes.com's Create Your Own Parodies for 'Downfall' and Other Films by Paul Boutin, published February 24, 2010
Further reading
Edit