Reich Chancellery
Comments

2
751Befehle on
this wiki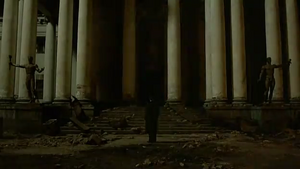 The Reich Chancellery, or Reichskanzlei, is the office of the Chancellor of Germany from 1871 to 1945. The Führerbunker, which the film Downfall mostly takes place in, is part of the Chancellery, along with the garage.
After World War II, the occupying Soviets demolished the building. The death strip of East Germany's Berlin wall ran through the western side of the site, and an apartment complex built on the eastern side in the 1980s, where the Führerbunker was once situated.
In Downfall
Edit
The Reich Chancellery is the location of several scenes in the film, such as the Himmler and Fegelein Scene, Hitler wants Himmler scene and the first part of the Battle Scenes. The scene where Hitler awards the Hitler Youth and Eva walking Blondi takes place in the Chancellery's garden, which the Führerbunker is built directly underneath. After Speer talks to Hitler, he can be seen standing in front of the Reich Chancellery.
In Downfall Parodies
Edit
In parodies, this location is mostly used in the Battle Scenes where an artillery shell hits the street and the soldiers take cover. The Speer scene is not shown as much as the Battle Scene. Often the artillery shelling is depicted as the result of the use of one of the superweapons.