Parody of the Year Awards
Comment

1
750Befehle on
this wiki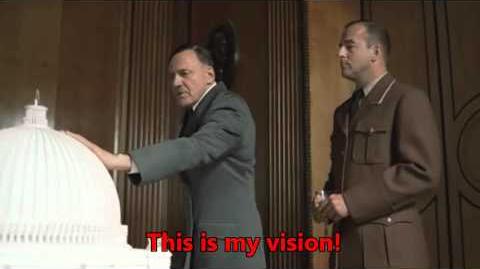 The Parody of the Year Awards is an end of the year awards ceremony, created as a collaboration between Master Studios, Benad361, Hitlerrantsparodies and TheSilverUniverse.
On September 1st, 2012, the Parody of the Year Awards were officially announced and the date for the presentation of the awards has been set for December 21st, 2012.
Formative History
Edit
The Parody of the Year awards was originally a concept brought forth by Master Studios simply to act as the "finale" of sorts to his Parody of the Month awards for the 2012 season, however with the expansion and growth in popularity of both the Parody of the Month and Benad's Unterganger of the Month award, interest in such an end-of-the-year celebration rose and planning for the event began. Soon after, TheSilverUniverse expressed interest in the event and offered to use his special effect skills to create the awards videos, and thus the three-man Unterganger collaboration was born. Hitlerrantsparodies was invited to join the collaboration on September 2nd, 2012, making the Parody of the Year Awards the largest collaboration of Untergangers to date.
Categories
Edit
As of October 13th, 2012 the categories for the 2012 season will be:
| Category Name | Description |
| --- | --- |
| Best Parody Series | The best close-ended Parody Series. |
| Best Special Effects | The best use of special effects in a parody. |
| Most Innovative | A parody that demonstrates considerable originality, creativity and introduces new styles/inspiration for Untergangers and their parodies. |
| Most Entertaining | The parody that made you laugh or kept your attention the longest, gave you a reason to spend time watching more than any other parody. |
| Best Feature-Length Parody | The best story-focused parody. |
| Best Music Parody | For parodies where characters sing or dance. |
External links
Edit