Hello Untergangers and Untergangerins! Here is the Featured Content for the week of 1 May.
By the way, do you know we have a subreddit of our own? Check it out!
To suggest content for future Featured Content, see the suggestions thread.

Ninetales95NL (previously known as NeinTails95NL, Das Phoenix, PhoenixFirebreath, and Vulpix95NL) is a Dutch Unterganger.
For his parodies, Ninetales95NL used VideoPad. With his Downfall parodies, he often uses other content, like game footage and instrumentals for his musical parodies, sometimes cropped in length in order to avoid copyright issues. Ninetales95NL's parodies are most of the time either video game-oriented or musical parodies. One of his works, The Dolf (What Does The Dolf Say?), has reached over 100K in views.
Adolf Hitler: Epic Sith Lord or just a tyrannical failure of a dictator? You decide.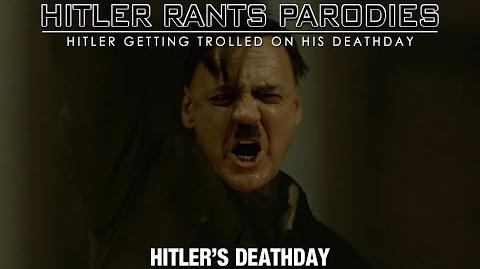 Watch Hitler die. Yes, you heard that right. Video by Hitler Rants Parodies.
Ad blocker interference detected!
Wikia is a free-to-use site that makes money from advertising. We have a modified experience for viewers using ad blockers

Wikia is not accessible if you've made further modifications. Remove the custom ad blocker rule(s) and the page will load as expected.