Home
Talk

18
811Befehle on
this wiki
Welcome to the Hitler Parody Wiki!


The Hitler parody meme Wiki that every Unterganger can edit.
This is the place to find info on your favorite characters and Downfall parody makers,
as well as detailed articles on the diverse terminologies and sub-memes!

3,430 moments of hilarity and 811 essential antics since 16 September 2010.
NOTE: The UotM and PotM now has separate nominations from the Unterganger Awards beginning April 2013.

---
About this wiki • Disclaimers • Rules • Manual of Style • Administrators • Help
Recent Changes • New Pages • Photos • Videos • All Pages • Category Tree
Forum • Blogs • Top 10 Lists • Featured Content Suggestions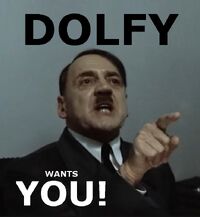 Not sure where to start?
Not sure how to help?
---
To write a new article, just enter the title in the box below.
Be sure to read the Rules and Manual of Style first!
"Don't take the surveys! It's *ucked!"
Hello Untergangers and Untergangerins! Here is the Featured Content for the week of 27 July.
To suggest content for future Featured Content, see the suggestions thread.

Johannes Hentschel (10 May 1908 – 27 April 1982) was a German-Danish master electro-mechanic for German dictator Adolf Hitler's apartments in the Old Chancellery. Near the end of the war, he worked in the Fuhrerbunker, and was one of the last living occupants before its capture by the Red Army. In Downfall, Hentschel is portrayed by Oliver Stritzel, and only has a minor part. As a result, he rarely appears in the parodies, usually when he encounters the Soviet women in the bunker. Recently, however, he appeared in one of Soalric 's parodies.


Fegel-Bear Workshop: Where antics are made.

JennieParker87 has announced a new contest. Sign up, bitte!
---
Please take some time to answer a general questionnaire regarding the Featured Content's performance.

The topic for this month's monthly poll is video editors. We covered this in the past but it was years ago and things change with time. A quality video editor is arguably one of the most important tools for producing parodies and plays a major role in the overall quality of your videos, after your creativity. The options for this poll consist of the most used editors within the Unterganger community, both free and paid.
So which video editor do you prefer to use? Wait no more and answer it. ANSWER IT!! Answer it! Answer it!
Which video editor do you prefer to use?
---
"What is your opinion on this wiki?" ~Günsche
---
Hitler Parody Wiki: 100% fanon with 30% more Verrat! Bringing you 3,430 moments of hilarity and 811 essential antics since 16 September 2010.
This wiki contains materials that are considered fanon, materials illegal in some countries, and materials that might be offensive or harmful to some viewers. Read the Disclaimers. Reader's discretion is advised.
#PrayForMH370