---
The following events have been either concluded, superceded, or dormant.
Note: The Unterganger of the Month and the Parody of the Month awards are currently held as part of the Unterganger Awards.
2016
February 2016
9 February 2016
8 February 2016
 

The year of the Mohnkey begins! 恭喜發財!
5 February 2016
January 2016
31 January 2016
30 January 2016
27 January 2016
16 January 2016
Untergangers rejoice as Micwan32's account is found terminated.
14 January 2015
 

Congratulations to Hitler Rants Parodies, who has become the first unterganger to reach 100,000 subscribers!
5 January 2016
2 January 2016
1 January 2016
2015
December 2015
26 December 2015
22 December 2015
11 December 2015
6 December 2015
4 December 2015
2 December 2015
November 2015
4 November 2015
3 November 2015
1 November 2015
October 2015
31 October 2015
20 October 2015
6 October 2015
4 October 2015
September 2015
24 September 2015
He's alive! Gokyr586 has returned with a brand new channel under the name of Venkyra21!
19 September 2015
Gokyr586 the Terminator was terminated by Google for an unspecified reason. Further correspondence between him and Google are ongoing to know the exact reason of his termination. RIP, our favourite Gunschinator...
16 September 2015
15 September 2015
14 September 2015
13 September 2015
September 4 2015
September 3 2015
August 2015
August 3 2015
August 2 2015
July 2015
July 16 2015
After over 10 months, there is finally a new poll! Click here to vote!
July 14 2015
July 4 2015
 

The results for June 2015's Unterganger Awards have been released. Congratulations to all winners!
July 2 2015
 

Nerdington 0 has won the Best New/Unknown Unterganger Award for the month of June. Congratulations!
The nomination process for March 2015's Best New/Unknown Unterganger Award has been rerun, after the previous winner Charizard had his win revoked.
June 2015
June 27 2015
4th-generation Unterganger Charizard has been revealed to be AlphaSkyRaider in disguise after much speculation. The two channels would later be merged under the single name of Charizard. All awards received by "Charizard" would be revoked as well.
June 2 2015
---
2014
Omitted months indicate periods of inactivity in The Fegel Times editorship.
---
---
---
---
---
---
---
2013
---
---
---
---
---
---
---
---
---
---
---
---
2012
---
---
---
---
---
---
---
---
About this wiki • Disclaimers • Rules • Manual of Style • Administrators • Help
Recent Changes • New Pages • Photos • Videos • All Pages • Category Tree
Forum • Blogs • Top 10 Lists • Featured Content Suggestions
Not sure where to start?
Not sure how to help?
Want to help yourselves?

Sure! If you're confident that you have met the requirements (Rule #9), you can create your own Unterganger page! Just type your name in the corresponding box below to get started.
Select either one box, put a title, write some information, and push "publish"... Boom! You're done. Come and make one!

  Write an Unterganger article

  Write a general article

Be sure to read the Rules and Manual of Style first!
"Please don't tell me you fell for that ad again. Verrat!"
Hello Untergangers and Untergangerins! Here is the Featured Content for the week of 7 February.
By the way, do you know we have a subreddit of our own? Check it out!
To suggest content for future Featured Content, see the suggestions thread.
Here's the second part of our February FC special Mohnke Monthke!
The Year of the Monkey arrives this week! For those who celebrate the holiday, a Happy Lunar New Year to you all! If not, you can still enjoy our Mohnke-focused content and learn more about one of our favourite Downfall parody characters! Stay tuned in the following weeks for more!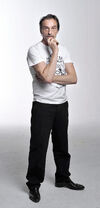 André Hennicke (born September 21, 1959) is a German actor, director and producer. He is best known for playing General Wilhelm Mohnke in the 2004 film Downfall and many other TV productions.
Hennicke was born in Johanngeorgenstadt (Saxony). He also has three sisters. When his father was chronically ill, his mother worked as a hatter. He finished his education with the completion of the 10th Working class, then he worked as a fireman in a cogeneration plant. He later completed his military service at the National People's Army. Prior to becoming an actor, he worked as a stocker and bricklayer. In 1978, André Hennicke tried to join the school of graphic design in Berlin, but is rejected because of his red-green color blindness. He later studied at the School of Film and Television in Potsdam, University of Film and Television "Konrad Wolf" between 1980-1984.
Wilhelm Mohnke in his judge outfit. You do not judge him!
Congratulations to all winners in last month's Unterganger Awards!
---

We hope you've been enjoying your 2016 so far! When it comes to parodies, it is quite often that you will see a clip from a different movie featuring a familiar character from Downfall, or rather the actor who plays said character. Parodies with such clips are termed actor parodies. As suggested by mfaizsyahmi, we would love to find out which actor from Downfall you would like to see more of.
IMPORTANT: There is a cache issue with polls on Wikia. Please purge this page before voting.
Which character would you like to see more actor parodies of?
Feel free to comment on your choice!
---
"What is your opinion on this wiki?" ~Günsche
Pencil of Doom
---
Hitler Parody Wiki: 100% fanon with 30% more Verrat! Bringing you 4,035 moments of hilarity and 900 essential antics since 16 September 2010.
This wiki contains materials that are considered fanon, materials illegal in some countries, and materials that might be offensive or harmful to some viewers. Read the Disclaimers. Reader's discretion is advised.
#BringMeFegelein #TPPANoWay