---
The following events have been either concluded, superseded, or dormant.
Note: The Unterganger of the Month and the Parody of the Month awards are currently held as part of the Unterganger Awards.
2017
January 2017
10 January 2017
7 January 2017
1 January 2017
2016
December 2016
26 December 2016
11 December 2016
10 December 2016
JennieParker87 has announced that she will be on leave from the Unterganger Awards until June 2017. The reason is her chronic illness, which drains all her energy more than usual. Ako675 will be in charge until she is well enough to return as manager.
9 December 2016
November 2016
28 November 2016
6 November 2016
4 November 2016
October 2016
31 October 2016
Ako675 has announced that the new site he's working on for the Unterganger Awards will be up and running on the 5th of November! This means that the UA will return in a few days. More details will follow.
20 October 2016
11 October 2016
September 2016
6 September 2016
5 September 2016
A new site specifically for the Unterganger Awards is currently being built by Ako675. It will hopefully be ready in the start of October 2016. The UA will take a break during September. The results from August will be uploaded as usual. More information can found here.
August 2016
9 August 2016
8 August 2016
5 August 2016
2 August 2016
July 2016
13 July 2016
8 July 2016
5 July 2016
June 2016
7 June 2016
4 June 2016
3 June 2016
May 2016
22 May 2016
8 May 2016
6 May 2016
4 May 2016
April 2016
6 April 2016
5 April 2016
2 April 2016
The wiki is now back to normal. We hope you enjoyed the Trump-ified wiki during April Fools' Day!
1 April 2016
DONALD DRUMPF HAS TAKEN OVER THIS WIKI. MAKE WIKIA GREAT AGAIN!!! HURR HURR HURRRR
March 2016
11 March 2016
6 March 2016
4 March 2016
February 2016
22 February 2016
Today is the Lantern Festival, which marks the end of the Chinese New Year festivities.
9 February 2016
8 February 2016
 

The year of the Mohnkey begins! 恭喜發財!
5 February 2016
January 2016
31 January 2016
30 January 2016
27 January 2016
16 January 2016
Untergangers rejoice as Micwan32's account is found terminated.
14 January 2016
 

Congratulations to Hitler Rants Parodies, who has become the first Unterganger to reach 100,000 subscribers!
5 January 2016
2 January 2016
1 January 2016
2015
December 2015
26 December 2015
22 December 2015
11 December 2015
6 December 2015
4 December 2015
2 December 2015
November 2015
4 November 2015
3 November 2015
1 November 2015
October 2015
31 October 2015
20 October 2015
6 October 2015
4 October 2015
September 2015
24 September 2015
He's alive! Gokyr586 has returned with a brand new channel under the name of Venkyra21!
19 September 2015
Gokyr586 the Terminator was terminated by Google for an unspecified reason. Further correspondence between him and Google are ongoing to know the exact reason of his termination. RIP, our favourite Gunschinator...
16 September 2015
15 September 2015
14 September 2015
13 September 2015
September 4 2015
September 3 2015
August 2015
August 3 2015
August 2 2015
July 2015
July 16 2015
After over 10 months, there is finally a new poll! Click here to vote!
July 14 2015
July 4 2015
 

The results for June 2015's Unterganger Awards have been released. Congratulations to all winners!
July 2 2015
 

Nerdington 0 has won the Best New/Unknown Unterganger Award for the month of June. Congratulations!
The nomination process for March 2015's Best New/Unknown Unterganger Award has been rerun, after the previous winner Charizard had his win revoked.
June 2015
June 27 2015
4th-generation Unterganger Charizard has been revealed to be AlphaSkyRaider in disguise after much speculation. The two channels would later be merged under the single name of Charizard. All awards received by "Charizard" would be revoked as well.
June 2 2015
---
2014
Omitted months indicate periods of inactivity in The Fegel Times editorship.
---
---
---
---
---
---
---
2013
---
---
---
---
---
---
---
---
---
---
---
---
2012
---
---
---
---
---
---
---
---
About this wiki • Disclaimers • Rules • Manual of Style • Administrators • Help
Recent Changes • New Pages • Photos • Videos • All Pages • Category Tree
Forum • Blogs • Top 10 Lists • Featured Content Suggestions
Not sure where to start?
Not sure how to help?
Want to help yourselves?

Sure! If you're confident that you have met the requirements (Rule #9), you can create your own Unterganger page! Just type your name in the corresponding box below to get started.
Select either one box, put a title, write some information, and push "publish"... Boom! You're done. Come and make one!

  Write an Unterganger article

  Write a general article

Be sure to read the Rules and Manual of Style first!
...that the real Otto Günsche has light-brown or blonde hair, while the Downfall counterpart has dark brown hair?
...that Das Boot was filmed sequentially to allow natural facial hair growth?
...that the real Hans Krebs wore a monocle?
...that practically all the extras on Downfall were Russians?
"Bring me subscribers. SUBSCRIBERS!!"
Hello Untergangers and Untergangerins! Here is the Featured Content for the week of 15 January.
By the way, do you know we have a subreddit of our own? Check it out!
Here is a reminder that you can suggest content for the Featured Content as well. The FC runs partly on your contributions as well, so if you enjoy seeing this section's content, please feel free to head on to the suggestions thread to post your suggestions. Thank you!

Superdumpfback is a German Unterganger who started to make Downfall parodies in late December 2015. Superdumpfback stumbled upon Super Hitler Kart in December 2015 by chance. He was amazed, and started to search for other Downfall parodies. After Superdumpfback got to know the different Downfall characters and their funny properties, he decided to make a parody himself. This parody, however, was never published, as it was a birthday gift for his sister. A few days later he created a new YouTube channel and planned to upload Downfall parodies for fun. His very first official parody was made with the help of a Caption Generator, but it was so boring and crappy that he decided to delete it later. He won the Best Unterganger Award in October 2016. Read more...
Superdumpfback was the first person to make an episode for the new community project, Hitler Sends Göring to Africa. It has since become very popular.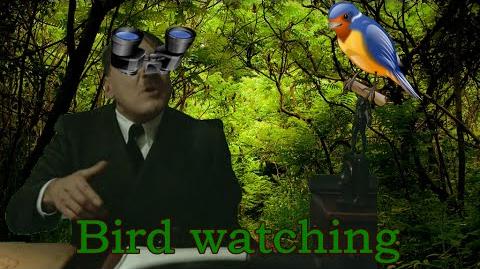 One of the first parodies that made Superdumpfback known.
---

It's that time of the year again, everyone...
The Führerbunker may seem like your average underground residing place. Unfortunately, it isn't and has never been. Even the bunker we see in every Downfall parody to ever exist has various corners which seem kind of...unsettling. This poll is here to find out what exactly they are.
IMPORTANT: There is a cache issue with polls on Wikia. Please purge this page before voting.
Where in the Führerbunker do you think is the creepiest place?
Feel free to comment on your choice!
---
"What is your opinion on this wiki?" ~Günsche
---
Hitler Parody Wiki: 100% fanon with 30% more Verrat! Bringing you 4,699 moments of hilarity and 944 essential antics since 16 September 2010.
This wiki contains materials that are considered fanon, materials illegal in some countries, and materials that might be offensive or harmful to some viewers. Read the Disclaimers. Reader's discretion is advised.
#BringMeFegelein #TPPANoWay
Ad blocker interference detected!
Wikia is a free-to-use site that makes money from advertising. We have a modified experience for viewers using ad blockers

Wikia is not accessible if you've made further modifications. Remove the custom ad blocker rule(s) and the page will load as expected.