---
The following events have been either concluded, superseded, or dormant.
Note: The Unterganger of the Month and the Parody of the Month awards are currently held as part of the Unterganger Awards.
For currently open nominations and votes on Unterganging contests, check out the
Contests Portal
.
---
2017
February 2017
22 February 2017
7 February 2017
January 2017
25 January 2017
24 January 2017
23 January 2017
A huge revelation by Venkyra21 on the original author of Hitler gets banned from Xbox Live, as he researched the website link on the video to find original postings of the parody (as Hitler's Ultimate Downfall). Follow up diggings by mfaizsyahmi reveal the name of the site owner: Bowlch, with his full name possibly being Chris Bowley.
22 January 2017
20 January 2017
10 January 2017
7 January 2017
2 January 2017
1 January 2017
2016
December 2016
26 December 2016
16 December 2016
11 December 2016
10 December 2016
JennieParker87 has announced that she will be on leave from the Unterganger Awards until June 2017. The reason is her chronic illness, which drains all her energy more than usual. Ako675 will be in charge until she is well enough to return as manager.
9 December 2016
---
Parsed using HPW's News Module. Info/Feedback
About this wiki • Disclaimers • Rules • Manual of Style • Administrators • Help
Recent Changes • New Pages • Photos • Videos • All Pages • Category Tree
Forum • Blogs • Top 10 Lists • Featured Content Suggestions
Not sure where to start?
Not sure how to help?
Want to help yourselves?

Sure! If you're confident that you have met the requirements (Rule #9), you can create your own Unterganger page! Just type your name in the corresponding box below to get started.
Select either one box, put a title, write some information, and push "publish"... Boom! You're done. Come and make one!

  Write an Unterganger article

  Write a general article

Be sure to read the Rules and Manual of Style first!
"Remember to summarize your edits. SUMMARIZE!"
Hello Untergangers and Untergangerins! Here is the Featured Content for the week of 12 February.
By the way, do you know we have a subreddit of our own? Check it out!
Here is a reminder that you can suggest content for the Featured Content as well. The FC runs partly on your contributions as well, so if you enjoy seeing this section's content, please feel free to head on to the suggestions thread to post your suggestions. Thank you!
Awesome Face!, also known as tema349 outside of YouTube, is an Unterganger from Russia. He has 356 subscribers and over 85000 views as of January 2017. Awesome Face! established his channel in 2010. He uploaded random gameplays and recording tests to his channel until he discovered Hitler gets banned from Xbox Live. He was inspired to make parodies after watching some more parodies. He uploaded his first parody on July 27, 2015. He won October 2016's Unterganger of the Month award. Read more...
JennieParker87's Halloween Special, The Damned, was named October 2016's Parody of the Month. Congratulations!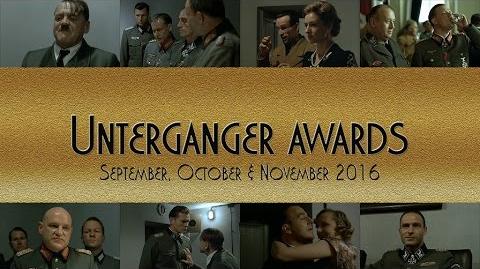 Congratulations to all the winners in the combined September, October, and November 2016 Unterganger Awards!
---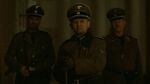 Sadly, the Monthly Poll has been put on hold for the time being. But don't worry! We're still eagerly accepting suggestions, and with any luck, you'll find us back with a topic of your choice!
In the meantime, have a look at our
archive of past polls
- just promise not to vote on them!
---
"What is your opinion on this wiki?" ~Günsche
---
Hitler Parody Wiki: 100% fanon with 30% more Verrat! Bringing you 4,768 moments of hilarity and 955 essential antics since 16 September 2010.
This wiki contains materials that are considered fanon, materials illegal in some countries, and materials that might be offensive or harmful to some viewers. Read the Disclaimers. Reader's discretion is advised.
#BringMeFegelein #TPPANoWay
Ad blocker interference detected!
Wikia is a free-to-use site that makes money from advertising. We have a modified experience for viewers using ad blockers

Wikia is not accessible if you've made further modifications. Remove the custom ad blocker rule(s) and the page will load as expected.