Hitler's Trip to Japan
Comments

2
750Befehle on
this wiki
Warning: This article contains spoilers.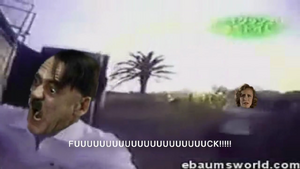 Hitler's Trip to Japan
is a parody series created by
Staedty86
. With the first video uploaded around September 2011, the series in total has been watched over 30,000 times.
The series features Emperor Hirohito's ability to commit antics during Hitler's state visit to Japan, much in the same way as Fegelein. In the third video the two even collaborated.
The series uses clips from Japan's prank shows, notoriously known for humiliating the victims in public.
The story is unravelled in the same manner as the Pros and Cons with Adolf Hitler. Günsche enters the room and asks Hitler on his state visit to Japan. Hitler then proceeds to tell Gunsche of his plights in a series of flashbacks.
In the first video, Hitler used three public toilet booths that had been rigged. The first one rose through the booth's roof, exposing Dolfy's pristine hind. The second booth had its walls falling down. The third one turned out to be a toilet on a water sled.
Hitler's second state visit was no better. He was made to fell into a pool of hot water. Three times it was covered by fake floors, once with a rigged seat on a van, and once on a stage with fake flooring. Emperor Hirohito made a debut in this parody, with him and Hitler meeting face to face.
On the third video, Hitler had huge boulders rolling towards him while he was walking and pedalling. Fegelein popped out of the floor and Ju-on popped out on the mirror and then out the wall, making Hitler fell backwards in surprise. The last prank featured many of the generals and Eva, apart from Hitler, Fegelein and Hirohito. Eva stood naked behind a screen, and Fegelein had to walk over the the generals lying on the floor to get a better aim on throwing balls to knock down the screens. It turned out to be an optical illusion, as Hitler is with Eva behind the screen. He promptly went after Fegelein in complete nudity, only to find out that the floor is slippery, sending all of them into a mud pit. He climbs out of the pit and tries to run towards Hirohito telling him "You're Fucked!", but slips and slides back, screaming for help, into the mud pit.
The video ends with Hitler shouting both Hirohito and Fegelein's names.
Hitler's holiday in the Alps is most likely a predecessor of the series. it was uploaded on late April 2011 and also features clips from Japan's prank shows. In this parody the massage chair in the cabin is rigged to throw the naked Hitler out in the cold and slide down the ski slope.