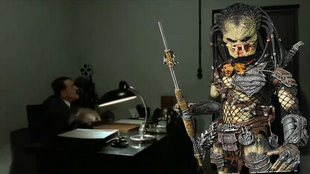 Downfall vs. Aliens vs. Predator
(
DVAVP
) refers to parodies which crossed the
Downfall
parodies with the
Alien vs. Predator
(AVP) series over. The following is a list of notable Untergangers who made this kind of parody:
gagislobista - Serbian Unterganger, author of 3 AVP-themed videos. He also made one video of Trololo, only with a Predator laugh.
DXFan619GotSuspended - American Unterganger, made one video of Hitler, with Arnold Schwarzenegger confronting a Predator.
Ad blocker interference detected!
Wikia is a free-to-use site that makes money from advertising. We have a modified experience for viewers using ad blockers

Wikia is not accessible if you've made further modifications. Remove the custom ad blocker rule(s) and the page will load as expected.