Bunker Jokes
Comments

2
750Befehle on
this wiki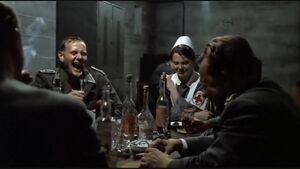 Bunker Jokes
is a seperate parody series, in which
Fritz Tornow
,
Walther Hewel
,
Hans Krebs
Wilhelm Burgdorf
,
Otto Günsche
and
Erna Flegel
, who are all drunk or at least half drunk, joke about a certain character in the Hitler Parodies, film of other situations.
It's mostly used with the generals drinking scene. While the first joke-themed parody (using the Reviews Scene) was introduced by thelobsterperson in his parody "Günsche's joke of the day! Justin Bieber", parodies that uses this particular scene was introduced by FuhrerFegelein, with the characters joking about Joseph Goebbels, e.g. why is name is Goebbels, his favorite song, his favorite band, etc. It usually shows Goebbels being angry or sad in the end.
This meme developed significantly, with the characters joking about other characters, such as: Günsche, Hitler, Jodl, Göring, Eva, Burgdorf, Fegelein, Traudl, Krebs, Reitsch, Schenck, Mohnke, Grawitz, Keitel, Högl, Greim, Blondi as well as non-Downfall characters and other interests.
Smell of the Ice has also created the opposite of the Bunker Jokes, Anti-Joke Keitel, in which Keitel answers Schenck's question correctly, which causes him to leave the room, while Tornow smokes his cigarette without laughing and the whole room is silent.
Multiple types of the series exist, each differentiated by the sequence of speakers. Some of them include:
Hewel-Tornow (short)

The most typical of the bunker jokes. Hewel presents the question, and Tornow delivers the punchline.

Hewel-Tornow (long)

A variant of the above, but using Tornow's longer dialogue (which is actually the original in Downfall).

Hewel-Tornow-Krebs-Tornow

Most probably used on jokes involving Krebs. After the punchline is given by Tornow, Krebs refutes it, and Tornow replied with the final verbal blow.

Eva-Hewel-Tornow

Eva presents a fact, then Hewel asks why, to which Tornow replied with the punchline.
The scene of Fritz laughing was first used in KakashiBallZ's Before Fegelein...there was HIMMLER!! in a humorous way, but it is not a Bunker Joke.
In Günsche Jokes, the ending shows Günsche in the Hitler Reviews Scene, even though he is seen in the beginning with the others, beside Hewel.
Despite being one of the most hated characters, Fegelein enjoyed being free of jokes directed at him for some time, until Fegelein's Jokes - Fegelein's Least Favourite Bug Tricks is uploaded.
Göring almost always reacts very violently toward his jokes; he checks his watch and then blows up the room with his... fart?
It is interesting that many characters that are being joked about, like Günsche, Burgdorf, Krebs and Eva are actually in the scene, and Burgdorf himself is seen laughing, possibly even Krebs.

If the laughing part is not edited properly, Eva will show up walking in, which might pose the same paradox if she was seen in the joke's antecedent.

After the laughing scene, they have sometimes completely opposite reactions:

Krebs once told Tornow that he's right near him, but Fritz did not cared.
After laughing in the scene, Burgdorf has sometimes reacted extremely violent, he even tried to shoot the laughing characters several times. On rare occasions, he laughed.
Günsche reacted violently only once.
External links
Edit
Scenes in Downfall's timeline
Problem displaying list. Please enable your browser's javascript.
*
Scenes only in extended edition,
%
Scenes differ between theatrical and extended edition,
^
Scenes without known download link
List is part of the Grand Unified Downfall Scenes Database. Information and inquiries here